Batch 1 (August to October)
Course Objectives
:
On course completion, the participants should be able to:
Identify, screen for mental health disorders (CMD, SUD and SMD) and factors influencing it

Decide "best practices"  like pharmacological treatment and handle brief psychosocial interventions for mental health issues.

Make decisions about what can be managed by them and what needs to be referred to higher centres  
(CMD: Common Mental Disorders, SUD: Substance use disorders (Alcohol and Nicotine), SMD: Severe Mental Disorders
During the Learning Process
Evaluate the common psychiatric conditions like Anxiety, Depression, Suicide, Alcohol and Nicotine addiction, Psychosis, Sleep and Sexual problems

Understand the  biopsychosocial model of disorders

Evaluate the management options for the above conditions

Use effective and evidence-based pharmacotherapy

Perform Brief Psychosocial interventions
Duration : 3 months
Duration
Self-paced  e- Learning (video, ppt, reading)
Interactive Video conferencing mobile app at VKN platform
Assessment

Digital

Time in Hours
20
10
6
Implementation:  Digital Learning
Self-paced e-learning (Anytime) + Interactive Face to face interactive Virtual sessions through VKN NIMHANS (Real Time) supported by  Audience response system (sli.do) + WhatsApp educational group + Accreditation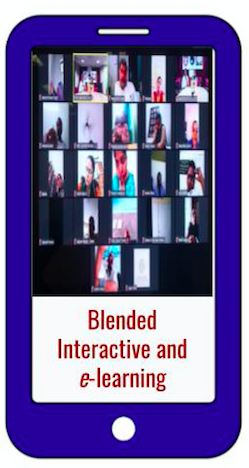 Curriculum
Modules
Anytime: Topics Self-paced e-learning : 20 hrs

Google Classroom mobile app

LIVE and Real-time:

Interactive VKN multipoint mobile  app video conference  (fortnightly): 10 hrs 

1st and 3rd Saturday at 2.30 PM

Focus

Knowledge dissemination

Skill acquisition by Case Demonstration and Presentation by participants as well as NIMHANS

Module 1:

4 hrs

General

General video

Mental wellness and Illness

and resilience  part

General principles of care

Signs and symptoms, and screening for mental disorders

History taking

Mental status examination

Assignment 1

Assessment

Communication skills

Q&A

Module 2a:

 4 hrs

Common Mental Disorders

Depression

Depression an overview

Assessment

Diagnosis

Antidepressant Medications: Initiation and Maintenance

Non-pharmacological: Education, stressor, & social network

Suicide & self harm

Assignment  2a

Module 2b:

 4 hrs

Common Mental Disorders

Anxiety

Diagnosis of Anxiety disorders

Panic Disorder

Generalized Anxiety Disorder

Anti-Anxiety medications

Relaxation therapy

Assignment 2b

Module 3:

 4 hrs

Alcohol use disorders

Screening for Abuse and Addiction

Withdrawal symptoms

Anti-craving medications

Brief counselling

Assignment 3

Managing Withdrawal

Preventing Relapses

Q&A

Module 4:

4 hrs

Severe Mental Disorders

Psychosis

Overview

Screening & Diagnosis

Antipsychotic medications

Psychoeducation for family

Assignment 4

Antipsychotics

Prognosis

Q&A

FINAL TEST FOR ACCREDITATION
Accreditation  and Certification
Evaluation
Criteria for Completion
The following criteria are to be fulfilled to be eligible for the award of Certificate (in a cycle of 3 months).  
More than 80% completion of the Self-paced digital learning module Six Assignments (as measured by the learning software) + > 80% participation in the fortnight multi-point video based interactive  case discussion (as measured by the software and your video presence) + One case presentation by the participants during the fortnight tele-clinics (multipoint video conference) and One case Submission + > 80% in the final accreditation +  monthly reports of the patients evaluated for Mental health in a prescribed proforma (before 5th of every month) + Pre and post assessment on knowledge and self-efficacy.
Assignments will be problem based, clinically relevant case scenarios, multiple answer questions, short notes, long essays, etc.
Course Fee and Number of Attempts
Each assignment has ONE attempt to clear (>80%) in a course cycle of three months. A part of the assignment  may undergo peer-review also.
Each Assignment has to be completed in three days after being assigned, without this completion (>80%) you can not  access next Module.
Each cycle of course is 3 months duration of 40 to 50 participants. There is no entry at the mid of the  training cycle.
The following is a certificate template for demonstration purpose