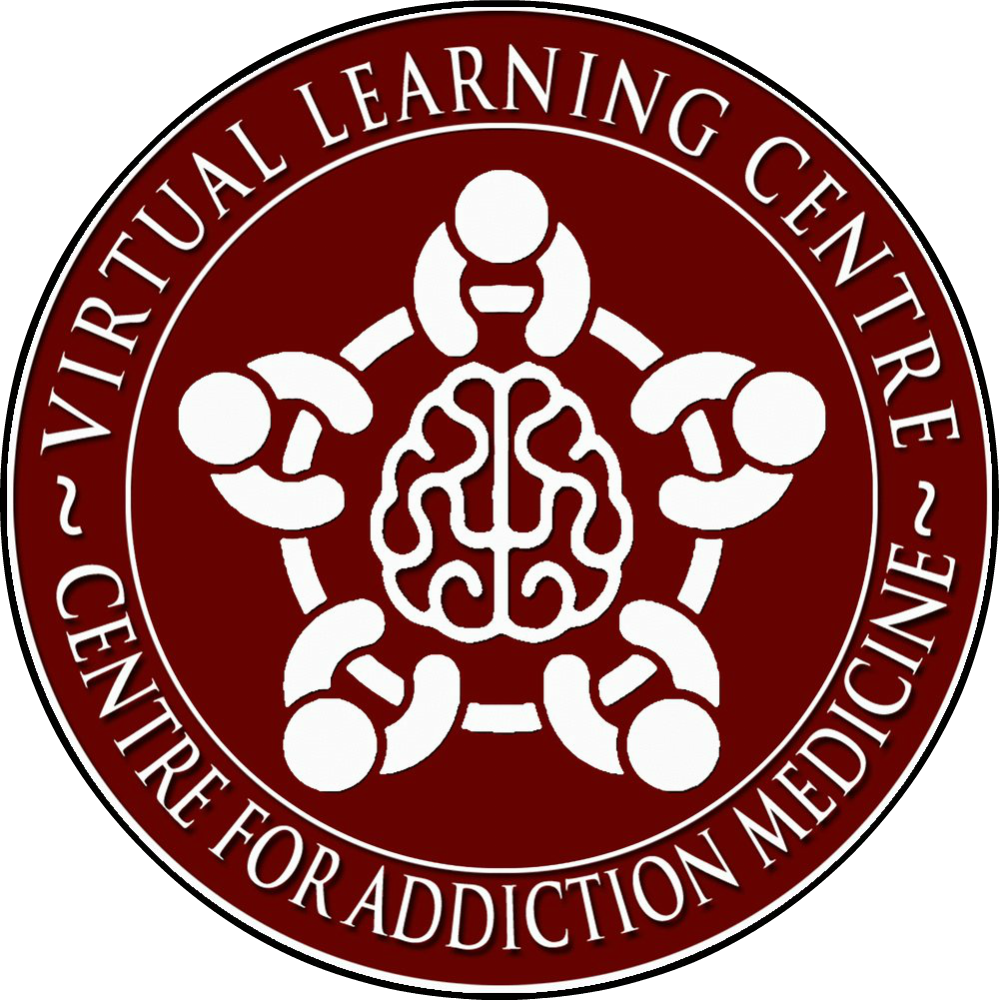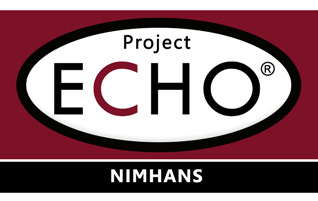 Foundation of Addiction (FoA)
Location: Videoconferencing
When: Tuesday Weekly
Start: January 2019
Time: 02:00 PM – 04:00 PM
Who: Any Primary Health Care Providers (Doctors, Psychologist, Nurses & Social Workers)
Virtual Knowledge Network (VKN) + Project ECHO model works on the principle of HUB and SPOKES, knowledge-sharing network led by an expert multidisciplinary team at NIMHANS. This model utilizes a weekly multipoint video conferencing app to conduct virtual tele-ECHO clinics with community healthcare providers. The focus of these tele-ECHO clinics is on"case based learning" in order to disseminate best-practices such as algorithms, guidelines and clinical wisdom for knowledge diffusion" by "utilizing technology to leverage scarce resources" and "web based monitoring to measure learning outcomes".
The remote primary health care provider also presents clinical cases and seeks clarification regarding standard management from our multidisciplinary HUB team as well as peers who have logged in simultaneously. This "guided practice" of case management strengthens the confidence and enhances the skills of the doctors/health professionals in the community. Patients also get the best treatment in their own community without travelling to a distant places. This peer led skill based learning helps to develop a knowledge-sharing network which creates in-depth knowledge, learning a new skills and self-efficacy among the primary health care providers.
These virtual tele-ECHO clinics are accessible through smart phones (3G or 4G)/ tablets/ PCs. This live tele-ECHO clinics is blended with a mobile learning certificate programme.
What is the Course about?
Course Description: Addiction is a major concern in the mental health landscape of the country and permeates the physical, psychological, social and emotional lives of the individuals that it affects. This introductory course provides an overview of the principles of addiction, both chemical and behavioural. While the emphasis of the course is on addiction to substances, the emerging class of non-substance addictive behaviours (internet gaming, shopping, pathological gambling) will also be discussed. The course covers types of drugs, understanding drug abuse and its appropriate assessment with brief intervention techniques. It is a valuable tool for teachers, parents, students or anyone with an interest in addiction and addictive behaviours.
On course completion, the participants should be able to:
Demonstrate knowledge about the Addiction/Substance abuse and its' features
Describe the various theories on addictions .Specific focuses on Common drug of abuse i.e. Alcohol, Tobacco*
Identify and describe the physical, psychological, social, emotional characteristics of addiction
Describe appropriate assessments
Discuss about useful counselling techniques
*Those who qualify this will be invited for Advanced Course focussing on other drugs of abuse.
Course will consist of 3-4 modules spread over 5 months (July to November 2018) and will include 3 assessments as part of the course requirement for completion and certification.
This will be blended learning methods

Face to face Virtual sessions through VKN NIMHANS ECHO (Realtime Tuesday 2PM) + Self-paced e-learning (Anytime)

There is 20 hours of interactive case based discussion in VKN NIMHANS ECHO platform and 10 hours of Self-paced learning by Google Classroom app.


During the weekly VKN NIMHANS ECHO that will take place every Tuesday 2PM to 4PM, the focus will be patient case presentation, clarification and discussion with NIMHANS clinical experts as well as peers. During each tele-ECHO sessions, about 4 to 5 patient will be presented by the participants by a developed case record form (CRF). Following case discussion the didactic topics will be presented by subject academic experts of NIMHANS. These will be interactive sessions.

Do install Zoom cloud from the playstore.


Self-paced E-learning (Google Classroom app or webpage)
Each participants will have access to Google classroom app or webpage. The relevant contents will be delivered through this app. These will be in the form of selected text book, articles, videos, power points etc. You have access to this for life long. They can interact with the trainer also. Please download Google classroom app from playstore.
It's Virtual - Imagine the amount of time and energy you'd be saving by taking the course at the convenience of your home/workplace. Plus, you wouldn't even have to commute long hours. So that's a win-win.


It's Free - This program is a part of Democratizing Knowledge in the area of Addiction Mental health being supported by Centre for Addiction Medicine, Dept of Psychiatry NIMHANS ECHO.


It's Self- Paced - Even when you have a ton of work to do at home or at work, you can still take up this course and learn from it at YOUR OWN SCHEDULE. There are absolutely no restrictions on when you take it(as long as you do) and from where. It works for your schedule, not the other way around!


It's considerably Hassle-Free - Since it's all based on Cloud Oriented Software as a service, there's not much room for any discrepancies and it's considerably easy to use. Also, since we work with technology, your data is not going to get lost amidst a ton of papers. In fact, you don't even need to do any paperwork here.


You have the Best Practices right at your fingertips - Are you accessing via your smartphone? Laptop? Desktop? Any other device? Great! You're just a click/swipe away from all the information you need from the Subject-Matter Experts. All you need is the interest to learn more.


Immediacy of responses - You have a query/suggestion? Just shoot it to us and one of us will reply to you within minutes if not hours. To us, effective learning is most important and we will go to lengths to achieve that. Adding to this, we also have a live-chat option on our VKN NIMHANS website where you can get your queries answered almost immediately.


It's having fun with learning - You can connect and open discussions with an ever-growing forum of primary as well as community care providers (which includes physicians, nurse practitioners, psychiatric social workers, psychologists, and the like) pan India and/or outside of the country and build a strong Community of Practice.


The course is offered at "NO Cost" to the Participants But it involves following COMMITMENTS

Attend weekly 2 hour sessions

Present at least 3 addiction related real cases that you have come across in your practice to the group during the cycle. (Case format will be provided by us)
Participate in evaluation activities (e.g., surveys, focus groups.pre-test etc)


What it offers: If you fulfill your commitments, you will be receiving a Course Certificate from our side.
Evaluation and Award of Certificate
The following criteria are to be fulfilled to be eligible for award of Certificate.


More than 60% Attendance in Weekly Tele-ECHO VKN sessions (as measured by the software and your video presence)
Presentation of 3 or more Addiction related patient case summaries
>80% in all 3 assignments provided periodically
Assignments will be problem based clinically relevant case scenarios, multiple answer questions, short notes etc. delivered online through Google classroom (maximum 2 attempts provided and in a limited time frame)
Monthly reports of patients seen, completion of pre-test and periodic surveys.
Who will get Benefit/Eligible?
Any frontline healthcare professional interested in engaging in addiction work, sharing their experience, and learning from their peers can attend ECHO sessions. We welcome physicians, nurses, psychologists, counselors, social workers, healthcare administrators, community health workers, pharmacists, and public health practitioners.
If you have any questions, please don't hesitate to contact us at vkn@vknnimhans.in
How would I be accessing this?
Via Multipoint video conferencing through Zoom app and Google Classroom

LIVE multipoint video conferencing app: You need to have an active internet connection (preferably 4G/broadband) and a PC/laptop/tablets are preferable. It also can be assessed through smartphone app (Zoom for multipoint video conference) .Most of the contents will be smartphone friendly. Zoom can be downloaded from Google play store (zoom cloud meeting) or itunes (Zoom cloud) for the smartphone users.

Self-paced learning/assignments/Digital content: We will be using Google Classroom for e-learning. Google classroom app can be downloaded also for android phones (Google classroom)
What is the Structure of a Session?
Each session consists of:
Introductions of the HUB Experts and Spokes, followed by announcements
A 15-20 minute didactic presentation on a given topic (e.g., Introduction to Foundation of Addiction).
Approximately 60 minutes of case-based learning, where healthcare providers (Spokes) present de-identified cases and receive recommendations from both the specialist Hub team.
NIMHANS Hub Team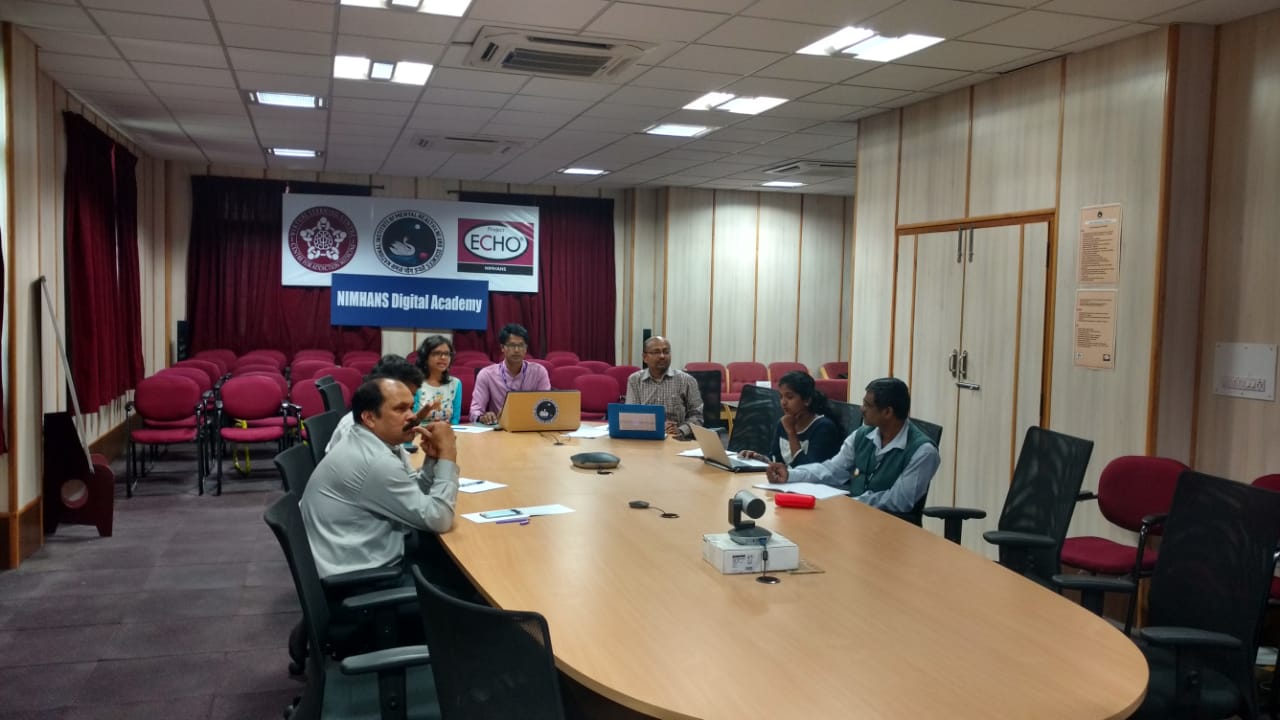 Spoke Sites / Community Partners

What is Your Contact Information?
Frequently Asked Questions
When will I have access to the lectures and assignments?
Once you enroll for the course, you'll have access to the requisite learning materials and review assignments. Assignments can only be submitted and reviewed once the course has begin.
Will I have the opportunity to clear my doubts or ask questions from the course resource persons?
YES during the Virtual Tele-ECHO sessions
Does the certificate mean that I am certified to practise as an addiction mental health professional?
No, the certificate means that you have successfully completed this course by achieving the course learning objectives. This course introduces you to the basic concepts of addiction, but does not provide all of the training and practice necessary to fully prepare you to render professional care. You are strongly encouraged to seek additional professional training in order to practise as a mental health professional or an addiction specialist.
Can i get a Certificate of participation
There is NO Certificate For Participation ONLY. Only those who completed Blended training as mentioned above in page no 5 are eligible for the same